Welcome to Parkview Junior Academy

Parkview has been in existence for over 100 years providing a Christian education to the children of its constituent churches and to the community. It is our goal to provide an education that is balanced to meet individual physical, social/emotional, academic, and spiritual needs. We consider it our duty, in cooperation with parents, to develop students who are responsible and respectful, and who make strong and positive contributions to society. 

We look forward to meeting you, and should we have the opportunity, serving your young person.
  
If you are interested in receiving more information about our school, please Contact Us.
---
Parkview and COVID-19
We are close to completing the 2019-2020 school year and it is certainly one that will not be forgotten quickly.  As we started the year, none of us could have predicted how it would end, but as we look back on it, we are pleased with what we have been able to accomplish, in spite of it all. Parents with students in both Parkview and other public or private schools have commented that Parkview teachers kept school going in ways that far exceeded those of the other schools they are associated with.  Distance learning leaves much to be desired, but we committed to making the most of the circumstances we were facing.  
Our board and faculty are carefully considering what school will look like in the fall.  Many of our decisions will be directed by state and local agencies, with which we will cooperate.  We are in the process of developing a plan for reopening based on the best currently available information.  We do hope to reopen, and to do so in as safe a manner as possible.  It is likely that we will need to schedule appointments for registration in order to ensure social distancing and to minimize the number of people who are exposed to others.  Check back here periodically for updates on this whole process.
---
Enrolling NOW!
We have been missing our students incredibly and are hopeful we will be able to return to the classroom together this fall. Call us today to find out more about our school and ask about our Pre-K program!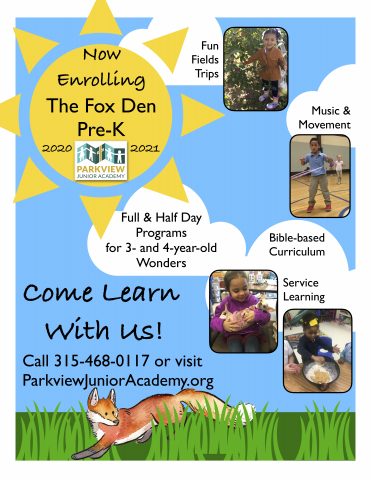 ---
Parkview's New Teacher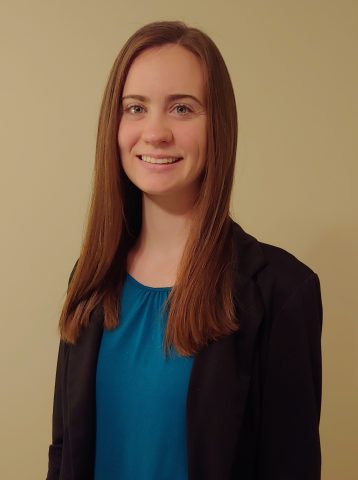 We are excited to be returning to four teachers for the coming school year and our new teacher has arrived.  Mrs. Alisha Anderson and her husband are getting settled in and we have met with her twice at the school. The decision has been made for Mrs. Hayford to teach fifth and sixth grades and Mrs. Anderson to teach seventh and eighth.  Mrs. Anderson was flexible about her preference of grades, but she has a minor in math and loves teaching higher grades in this area,  which makes her a good choice for the upper grades. We look forward to the day when we can introduce Mrs. Anderson to parents and students face to face.
---
Parkview is a Box Tops school!
Click on the image below to see how you can help us raise money for our school!

Box Tops for Education™ is a school earnings program that helps schools earn cash to buy the things they need. NEW--no more clipping! Download the Box Tops app and scan your receipt. The school's earnings will be updated in real time and extra bonus offers are available through the app. When students, families, schools and communities work together to collect Box Tops, the money adds up fast.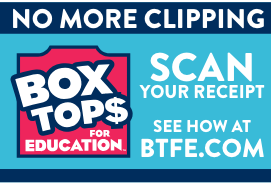 Click HERE for a Box Tops for Education Products List